Diagnostics using isothermal DNA amplification (LAMP, RT-LAMP)
Protean Ltd. has developed technology for a simple detection of various pathogens and specific DNA and RNA sequences based on the isothermal amplification technique. The technology profits from in-house production of amplification enzymes BstI DNA polymerase and ProRT Reverse Transcriptase and fully complies with CE IVD certification standards. A patent application was filed for the technological solution of this diagnostics.
Major advantages:
Easy on laboratory equipment and staff - it can be done in any laboratory, no PCR cycler required.
Results are available within one hour - with the ability to read results with the naked eye or mobile (also spectrophotometrically).
Huge test throughput - hundreds of samples can be analyzed at once.
Significant cost reduction over traditional PCR assays while maintaining the same sensitivity and specificity.
The test kit RT-LAMP Assay SARS-CoV2 is intended for diagnostics of SARS-CoV-2 virus in isolated viral RNA samples - for 45 samples.
Test principle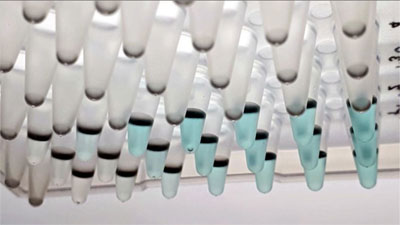 RT-LAMP (reverse transcription and loop-mediated isothermal amplification) allows amplification of nucleic acids with a high specificity, efficiency and speed under isothermal conditions - ie. at constant temperature, achievable in incubators, hybridization ovens or dry blocks. The results are reliably read based on the color change by naked eye. The test includes detection of SARS-CoV2 virus and detection of internal control (IC) for correct sampling and processing.
Kit contents
Reagent box for 45 tests
A bag containing a 96-well PCR plate and a lid plate with the stain in a light-tight container. It should be stored at room temperature in the original light-tight container or in the dark.
Necessary material not supplied with the kit
Automatic and multichannel pipettes
Appropriate reservoir for reaction mixtures
Pipette tips with RNAse and DNAse free aerosol filters
Plate incubation device at 63°C.
Test sensitivity
Equivalent sensitivity with qPCR to Ct 36-38
Corresponds to 10 copies of the virus per ul of the sample